RestoringTouch is dedicated to improving the lives of individuals with practical acts of compassion wherever the need may be. Click below to read about a few of the people we have helped along the way.
---
COMING UP...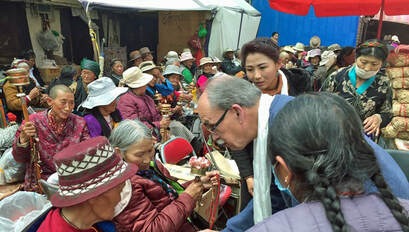 On April 22 through May 3, 2019 we will be traveling to Chengdu and Beijing, China and to Lhasa and Gyantse, in the Tibet Autonomous Region of China to distribute personal water filters and solar lights. Contact us for more information.
​
​Photo -- The Meru Temple in Lhasa holds an annual 45-day prayer with over 2,000 Buddhist devotees in attendance (not for tourists). We were allowed to help many elderly. Then on our second visit we were able to help
pay for over 2,000 daily meals for 45 days, all because of your generous gifts!
---
---
---
​China and India

Hopi

Halloween events on the Hopi Reservation in Northern Arizona.

Click here to read more...

​

​
---
RestoringTouch, Inc. is a California based 501(c)(3) Non Profit Charitable Organization. Our tax number is available upon
request
.
​
I'm only one; but still I am one. I cannot do everything, but I can do something. I will not refuse to do that which I can do. ― Edward Everett Hale